Each year as December 31st rolls around, we have an opportunity to revisit our past year to consider our accomplishments, remember our moments of exhilaration, and ponder our ups and downs. We reflect on moments of awe, wonder, sorrow, and joy. As we parse these experiences and how they've impacted us, we can begin to look ahead to the upcoming year. The New Year is a chance to start over perhaps, a chance to build on what we have begun, or a chance to step away and experience something new and exciting. New experiences are my theme for 2016 as I look ahead to the future.
This year, I've had some amazing opportunities as a result of teaching ESL. My 2015 began with a reunion in Southeast Asia where I met up with several of the friends I made while teaching English in South Korea. We all gathered together on the beautiful island of Phu Quoc in Vietnam to celebrate a mutual friend's wedding. Since I would already be across the vast expanse of the Pacific Ocean for my friend's wedding, I figured why not take a little more time and explore Vietnam and Cambodia while I was there? I planned out ten all-too-brief days exploring Vietnam; ferrying to Cambodia; taking a boat from Phnom Penh out of the city and through the Cambodian countryside, witnessing fishermen and floating villages, rice paddies and water buffalo; and eventually stopped in Siem Reap to see the amazing UNESCO World Heritage site of Angkor Wat. I had three days at this sprawling temple complex situated in the Cambodian jungle. It was then that I realized that three days would not be nearly enough to fully take in the temples or the wonderful, friendly, warm people of Cambodia.
From Cambodia, I flew to South Korea to spend a few days reconnecting with friends teaching in the country where I began my TESL experience. As soon as I got off the plane at Incheon airport, I was immediately overwhelmed with familiar sights, sounds, and smells. A wave of nostalgia, a surreal blend of familiarity and novelty, washed over me as I returned to my old neighborhood and walked down the streets where I spent nearly three years of my life. Much has changed in the time since I left, but there was much the same as well. While in Korea, I stayed with a friend, Magdalena, from my hometown whom I had actually taught during her Oxford Seminars certification course. We've always kept in touch, and now we've reconnected more fully and begun talks of an epic backpacking trip that will define our upcoming year.
After returning to Canada, I accepted a summer camp position in the Czech Republic [stay tuned for more on this in a future blog entry!]. My experiences there, along with my travels in Asia earlier in the year, lit a fire under me to get out and continue exploring the world. As the summer progressed and with increasingly exciting thoughts of travel on my mind, Magda and I began talking in earnest about me returning to Asia to teach and save money, and then the great, life-changing trip we will take after we both finish teaching in early 2016!
As a result, I decided on Taiwan as my teaching destination. Taiwan is a lot warmer than Korea in the winter, and if your plan is to escape Canadian winter as mine is, then I say do it right and follow the sun!
As I look ahead to 2016, I know that this will be a year I will never forget. I'm currently in Taipei, Taiwan, overlooking a lovely little park with the Taipei 101 building off in the distance like a mammoth bamboo tree.
I am working as much as possible to save money in preparation for a full season living out of a backpack on the road. We will be ringing in the New Year on the beautiful island of El Nido in the Philippines, and when the New Year's fireworks subside on El Nido, I know that I will be giving thanks for all the wonderful opportunities I've been afforded in life, the beautiful places I've seen, and the wonderful people I've met and walked with along the trails and tributaries of life.
Every trip, every encounter, every person I've met has steered me in some way or another. Some of the people you meet are a brief nudge in your life, while others will quantum-entangle with your being such that no matter where you are on this broad green Earth, you will never be far apart. I am especially thankful for those people, our traveling soul mates, our spiritual kin.
Peering ahead into the year that comes, I am overwhelmed with excitement for the trip that will test our wits and mettle as we land in Hanoi, Vietnam and then walk, ride, bus, and train our way down the Vietnamese coast to Phong Nha and the Hang Son Doong cave, the world's largest cave complete with its own river system and microclimate. We will camp inside the caves at Phong Nha, and from there venture to Ho Chi Minh City to witness the madness and spectacle of that bustling city, and then up into Laos to go tree-top trekking with gibbons, down into Cambodia to spend more time exploring the temple ruins at Angkor Wat and to connect with nature at the Mondulkiri Elephant Sanctuary. From there, we will travel to northern Thailand, spending some time absorbing the beautiful scenery and temples around Chiang Mai —as well as eating some of the best food in the entire world. From Chiang Mai, we will cross the border into Myanmar, a state almost completely off the tourist map. We will explore villages, meet locals, camp, backpack, and make the most of each and every day before coming back down the Thai coast eventually to Bangkok and heading home with stops in Dubai, Poland, and Germany along the way, our minds filled with the memories of a lifetime. None of this would have been in my plans had I not taken that first fateful step to fly abroad to teach English for the first time. From that decision, I have never looked back. I would very much encourage you to consider starting a similar journey. Learn how here.
This New Year's will be a special one. It marks the end of one of the greatest transformational years of my life as I traveled, taught, and connected with myself and rediscovered my fire for travel, exploration, and adventure. And it rings in a year that may very well set the tone for all my years to come as I embark on an epic trek with one of those quantum-entangled people you meet along your journeys. Travel and teaching are in my blood. I know this to be true now more than ever. We never know quite where life will take us or who will walk alongside us on the path, but we must always be open to the possibilities placed in front of us, and most of all, enjoy the ride. Happy New Year, everyone. Live life. Love life.
Written by Brent Morrison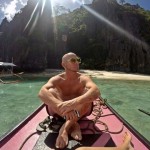 Brent has been involved in ESL as a teacher, Oxford Seminars TESOL instructor, and writer for much of the past decade. His teaching exploits have taken him to South Korea and most recently to the Czech Republic and Taiwan. As both a teacher and avid traveler, he looks forward to every opportunity to explore new cultures, sample new cuisines, and meet new people. He can't imagine a better way to experience the world!