FREE DOWNLOAD: AN EXPAT'S GUIDE TO TEACHING ESL IN SOUTH KOREA
If you're interested in traveling to Korea, this expats guide to teaching ESL is for you!
Teaching English abroad allows for rewarding career opportunities and new and exciting cultural experiences. As a native English speaker, you can offer a valuable skill to students; as an expat, you will learn how the people live, eat, communicate, travel and celebrate in a different country.
With Korea's rich culture, growing technology, and delicious food it's become one of the most popular destinations for those who want to teach English abroad. Oxford Seminars' newest free guide offers a head start toward beginning a gratifying career.
Key takeaways include:
How to find jobs teaching English in Korea;
Requirements for ESL teachers;
What it's like living and teaching in Korea;
How to find transportation in Korea;
Discovering Korean cuisine;
Proper etiquette;
Teaching resources, and more!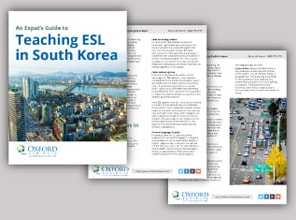 Get all this free information by

entering your email below:
QUICK FACTS ABOUT TEACHING ENGLISH IN SOUTH KOREA
How Much Can I Earn?
Monthly Salary:
2,000,000 - 2,700,000 KRW

1,780 - 2,400 USD
Private Tutoring per Hour:
20,000 - 60,000 KRW
18 - 53 USD
Income Tax Rate:
2 - 15%
Ability to Save per year:
6,500 - 20,500 USD
---
What Are My Benefits?
Accommodations:
Usually included or allowance given
Airfare:
Reimbursement (full or partial) usually given
Health Care:
Included
Holidays:
Paid
---
What Will Teaching Be Like?
Teaching Hours:
22 - 30
Typical Contract Length:
One year
Typical Start Date:
August/September, February/March, or year round
Application Timeline:
2 - 6 months
---
What Do I Need?
Work Visa:
Employer sponsors
Education Requirements:
Bachelor's Degree
Oxford Seminars TESOL/TESL/TEFL Certificate
Additional Notes:
Private tutoring is forbidden in most contracts; medical coverage will not start until you are legally registered in the country, which can take 30 days to 3 months; public schools strongly prefer 100-hour TESOL/TESL/TEFL certification