When I talk to prospective ESL teachers interested in going abroad, some already know exactly where they want to go. However, many others are not so sure where to teach abroad. Some are trying to pick between a few top destinations, and others have no idea where they want to go. They're just excited to travel and teach English abroad.
Regardless of which camp you find yourself in, it's always a good idea to ask yourself some questions and find out what you want out of your experience. This will ultimately help you focus on your goals and choose where you want to go. Ask yourself the six questions below and choose your ideal teaching destination.
Questions to Ask When Researching Where to Teach Abroad
1. Where can I find a job teaching ESL?
The answer to this question is typically determined by two factors:  Size of the job market, and expected qualifications.  Some countries simply have more teaching jobs for native English speakers than others.  Many of these, unsurprisingly, are larger countries like Japan, Mexico, and China.
Yet a large population does not ensure a large job market. Russia and India, despite high populations, have comparatively small ESL markets, while less populated countries like South Korea and Ecuador have many available positions.
Your level of experience (and level of education) may also determine where you will most easily find a job teaching abroad. In China, for instance, plenty of jobs are available requiring no previous experience. Positions in the United Arab Emirates, rather, tend to demand higher qualifications along with past teaching experience. Yet no matter your qualifications, there is a country where you can find a rewarding job. If you have a high school diploma and a TESOL certificate, you can start packing your bags.
2. Can I save money while teaching English abroad?
In some locations, teaching abroad can be remarkably lucrative.  Many people are discouraged from venturing out to teach abroad because of monetary burdens like student debt, but if you plan carefully, you might just be able to find a position where you can live well and meet your financial obligations.
For example, South Korea is the perfect place for saving money.  I was able to find a job there as a young college grad (with no previous experience), and after my first year, I had enough cash on hand to purchase a car.  Other countries, like Saudi Arabia and Taiwan are also fine choices if you want to have some funds to spare.
In general, it's easiest to save money in wealthier countries with a relatively low cost of living that provide benefits like free housing and severance pay. If saving is important to you, carefully research local pay and recent exchange rates.
3. Can I travel while teaching overseas?
The desire to travel around a new region of the world is one of the most common motivations for teaching abroad.  Consider the amount of vacation time you'll have.  This varies by country, but your employer matters just as much.  Be aware that public schools and universities on average provide employees with more vacation time, though often more modest salaries.  Private language academies, rather, while generally higher paying, tend to offer fewer days off.
Access to transportation may also determine your ability to travel.  Those of us who have traveled in Europe know that getting between cities (and countries) is fast and easy.  Not all countries have the infrastructure to facilitate speedy weekend getaways.  If you are in a major city that serves as a transportation hub, expect to be able to go farther afield on weekends.  Prefer a remote village to fully immerse yourself in local culture?  Perhaps you'll spend more time exploring the surrounding cities and towns.
No matter where you go, you'll find time to travel, both within your country and around your region.  In some places, it might be easiest to travel after your contract is finished.  I spent five weeks traveling around Asia after my first year of teaching overseas, but I traveled extensively in country on weekends, facilitated by the efficient intercity bus system.
4. Who do I want to teach?
Another factor in deciding where you want to go might be the type of students you would like to have in your classes.  Most major teaching destinations have ample opportunities to work with children of elementary or middle-school age.
If you prefer to work with adults, however, you may have to choose your country more carefully, as many of these jobs (especially in a University setting) require previous experience.  Nevertheless, even for new teachers, Costa Rica and Chile are prime destinations for adult-centered education, as are many of the emerging markets of Eastern Europe such as Poland.
5. Is this country right… for me?
After considering the job market, pay, and work schedule, it's easy to forget that you aren't just going to a new country to work; you are going there to live.  Professional satisfaction is important, but you must also be comfortable in your new home.  You'll experience some discomfort in a new culture—that's to be expected—but you need to be able to get through your daily life without undue distress.
Or put another way, you don't have to blend in with locals—in some countries, you will stand out because of your appearance—but you should have the desire to fit in by participating in local customs. Be sure to consider the lifestyle of your perspective hosts.  Would the cultural restraint of the Arabian Peninsula be difficult for you?  Or would the late-night revelry of the Caribbean or Mediterranean (and afternoon siestas that follow) be more of an adjustment?  Regardless, please remember that you might end up staying abroad longer than you planned, so it is essential to find a place where you will thrive both personally and professionally.
6. So what are you waiting for?
This one is rhetorical.  The answer should be "nothing!"  Grab your passport and go!
Want to learn more about teaching English overseas? Sign up for a free information session near you, or download our free course guide today!
Written by Jeremy White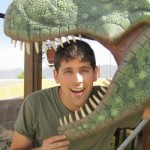 Jeremy White has lived and worked in several states and countries, most extensively as a TESOL instructor in South Korea. He has a master's degree in linguistics and has taught Oxford Seminars courses in both New York and Minneapolis.