I decided to teach ESL in South Korea because I wanted to explore my interest in teaching English abroad to foreign learners. I knew that it would require more schooling for me to teach here in the U.S., so I thought this would be the perfect way to test the waters before investing my time and money in a graduate school program. Having volunteered in an elementary ESL classroom, I was positive that I wanted to teach that age group, so I got a job at a public school in New Song-do, Incheon.

My First Teaching Job with Adult Students
After about three months of teaching elementary students, the Director of the English Department told me that I was going to have additional classes added to my schedule. She also informed me that these classes would be conversational classes for adults in the community. The words 'adult students' sent me into a panic!
I politely declined the Director's request, saying, "But I don't teach adults. I teach elementary school children. I came here because I wanted to teach young learners." I quickly found out that this was not a request at all. I would be teaching adults in two weeks, whether I liked it or not.
Overcoming My Fears Teaching Adults English
As the start of the class neared, I grew more and more anxious about teaching adults, but on the first day of the course, I walked into the classroom, and there sat seven women who eagerly waited to learn English.
While I was nervous about teaching a group of women who were all older than me, we quickly got into a routine. Just like any other course, the content needed to be relevant to the students' lives, so we spent most of our time talking about their families, their jobs, and how life is changing rapidly in South Korea.
I quickly realized that I was looking forward to these classes more than any other class that I taught. I was learning so much about Korean culture from these women, and they were learning English from me. I was shocked that I was thoroughly enjoying a class that I had completely dreaded teaching.
International Teaching is the Best Way to Get Started as a Teacher
My time teaching in South Korea challenged me to push my boundaries and forced me to try something that I never would have done on my own. While I was nervous at the beginning, I couldn't have asked for a better opportunity to learn about a new culture, and turn my initial interest in teaching into a rewarding career.
In the four years or so that I have been back in the States, I have continued to teach adults.  Teaching this one class caused me to forge a new path for my career, and it never would have happened had I not traveled to South Korea.  I think about this experience often when I feel worried about something new that I am facing in my life.  It taught me not to fear the unknown, but to embrace it.  Sometimes we need a little push to put us right where we need to be.
Why Teach ESL Abroad?
Are you interested in a career teaching English overseas? Do you want to make extra money for your travels around the world? Teaching ESL overseas is the best way to start a teaching career and a great opportunity to explore the world while gaining valuable experience. Talk to an instructor at a free information session near you or download our free course guide to get started.
Written by Blaire Hart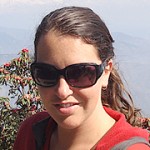 Blaire Hart has taught English abroad in South Korea and Costa Rica.  She enjoyed her experiences so much that she returned to the U.S. to earn her Master's in TESOL.  She currently teaches English at a university and is also an Oxford Seminars Instructor, but she's always looking for that next international job.