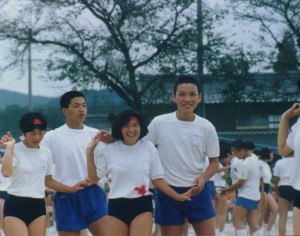 Japan was my first ESL teaching location, and as such, it will always hold a special place in my heart. Interestingly, new teachers abroad find that social activities are as much a part of the job description as teaching English. Not to belittle the obligatory dinner outings, field trips, and seasonal parties, but the school undōkai soon became my favorite.
Undōkai: Japan's Unique School Sports Festival
The word undōkai is usually translated as a school's sports festival, which brings to mind track and field competitions back home. But, don't be fooled. They are much more than that. Undōkai preparations begin months before the actual festiva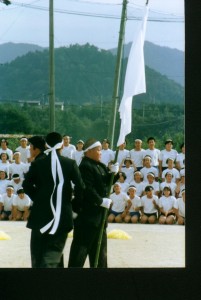 l itself, which is usually the first week of September. Preparation from this time takes place daily both before and after school, during lunch breaks and home room periods. One week before the festival, all afternoon classes are canceled to give more time to prepare. Both staff and students would often come in on Sundays and holidays as well. A teacher at the school described estimated preparation festival added up to a total of sixteen complete school days!
Celebrating Undōkai Team Pride in Japan
The first thing you notice on undōkai day is that the school grounds look much different than on a normal day. There are entrance and exit gates to the school grounds, where large viewing tents have been erected for guests. The school building itself is the most prominent change. Large, multi-colored murals of team mascots cover several stories of the buildings, one for the Red Team and one for the Blue Team.
The slogan for this festival ("United through Powerful Movement and Voice, We Become One") sits beside the center of the display. This is where the counter tallies up points which are updated after each competition to let everyone know which team is ahead. Inside the tents, set up to shelter guests from the hot summer sun, students come around every half hour or so offering cold barley tea and sweets. There are approximately 200 guests here to watch a student body of 570.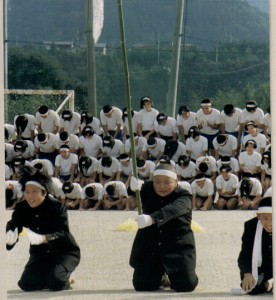 Starting the Sports Festival
The students warm up with stretching exercises, opening ceremonies and speeches. Afterward, the events begin including: capture the flag, relay races, centipede races, folk dances, a parade of all school clubs, tug of war and an amazing five-minute cheering contest between two teams that is almost professional in its presentation. As students compete, others cheer them on wildly, expending more energy than the actual participants with shouts of "ganbare!" and flags, whistles and pom-poms. Not immediately evident is that almost all activities are group competitions, not individual ones.
After everything is done, the students briskly clean up without being asked. This is followed by a home room class to review the day's events. Teachers are anxious to send kids home so they can go to a restaurant and eat and drink, but the students are reluctant to leave, gathering to take pictures, practice more and cheer the day's events. In the end, they have to be forced to finally go home. At the teachers' party that night, there is eating, drinking, speeches, shouts of "banzai" and "kampai."   Then, everyone goes to a second party to drink some more at a karaoke bar, and perhaps even a third party for the diehards.
Japanese Teaching Strategies vs the West
I'm often asked if Japanese education would work better in the West and vice-versa. The answer is that each culture goes well beyond academics, socializing children to fit into their own societies. We may think the preparation for a single day's event a waste of valuable school time, and in our society, it might be. Yet, in the Japanese society, it is not. If you could see the pride and joy the students took in doing it well, you would see it was time well spent, especially in a society that values group work and cooperation above achievement. It's perfect training for adulthood, which is what an education is supposed to provide after all.
Interested in learning more about teaching English abroad? Talk to one of our instructors at a free information session near you, or download our free guide to teaching English in Japan!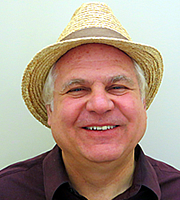 Darvin Babiuk has taught English in eight countries at the public and post-secondary school levels, as well as for a number of oil and gas majors in Canada, Japan, Yemen, Saudi Arabia, Libya, Qatar, Iraq, the UAE and Kazakhstan. He enjoys writing and sports, such as kayaking and hockey. He's currently working for Southern Alberta Institute of Technology's International Projects Team on a Kazakh project, as well as being an Oxford Seminars TESOL Certification course instructor.