Arriving in Yangon, Myanmar
Yangon! We finally made it to one of the destinations we were most excited to reach on this trip. When we first started planning our journey, we were looking at Thailand with a few stops in Vietnam and Cambodia. As things evolved, we decided to visit Myanmar and Laos (and the Middle East and Europe eventually) as well, but it was the addition of Myanmar and all the mystery surrounding it that got both of us excited.
There is something magical about a place that is mostly off the tourist path. Although travelers can and do visit Myanmar, it is not a destination that the majority think of when they're planning a trip. Myanmar just opened its borders to tourism not long ago, and the process is a little more involved than going to, say, Thailand. You must secure a visa in advance, which takes a couple of days, so it's not someplace you can just cross into on a whim. In fact, during our time in Yangon, we didn't run into a single visible tourist among the throngs of people everywhere.
The Wonderful Sites and Friendly People of Yangon
Walking the streets of Yangon (formerly Rangoon), we both immediately breathed a contented sigh and remarked that this is exactly what we wanted. The streets were bustling, the city alive, yet we were enveloped into it as a natural part of the landscape. Sure we stood out, two backpack-laden foreigners in a sea of Burmese people, but at no point did we feel separate from the bustle and flow of the city. People would come and greet us, welcome us warmly to Myanmar, and then they would be on their way. A stark contrast from the constant feeling that we were being hustled in Vietnam. For the first time in a while, we didn't feel like we were walking around with flashing dollar signs on our heads. We were simply there to explore, and the people felt content to let us do so. It was a refreshing break.
The city itself is full of markets, some breathtakingly gorgeous temples and pagodas (most notably, the golden Shwedagon Pagoda), and beautiful parks and open areas to sit back and people-watch. We stayed at a quaint little hostel and went for daily runs, making friends with the market vendors and locals we'd encounter each morning. One even took such a shine to Magda that she beckoned her over and adorned her with a flower for her hair one morning as we finished our workout in Maha Bandoola Park a few miles from our guest house. The sense we got from the people there is that it was purely their nature to spread some joy to the newcomers by making us smile. I don't think I've ever seen so many genuine smiles or felt so welcome as a guest in a country.
As Myanmar is rooted in tradition, we adopted some local dress to avoid causing any ruffles in our day-to-day life. I picked up a longyi, basically a wraparound man-skirt, and Magda wore a htamein, the female version of the longyi. But aside from needing to be dressed appropriately to visit any temples or pagodas, this wasn't forced upon us; it was just a way to make everyone more comfortable, and the smiles and greetings we received from locals when they saw us reinforced our choice to make an effort to fit in.
We honestly can't say enough about Yangon or the Burmese people we met. One such gem of a person, Mr. Toe, was a retired gentleman who saw that we were new to Myanmar and offered to show us around the city (and taught us how to properly tie a longyi and htamein). He spent almost the full day with us without ever once asking for payment or allowing us to buy him something to eat or drink. We did give him a tip at the end of the day, but he seemed genuinely touched that we made the effort. It wasn't so much about money for him as it was an opportunity to show us around his city and introduce us to his culture.
Examples of this kind of warm, helpful behavior abound, but one encounter clearly stands out for us as far out of the ordinary. In Yangon,  there is a train called the Circle Train that goes around the city, taking about three hours to complete a circuit. It is a great way to see the city and surrounding countryside, and it cost us barely $3 for two tickets. There is one catch: Myanmar is hot, and there is no air conditioning on the train. When I say it's hot, I mean HOT. Like 115 degrees Fahrenheit hot that day. Ill prepared as we were, after a few hours taking in the sights of the city and watching the scenery shift from urban to industrial to shanty to rural, we had sweat out all the water we had and became outright parched. At some stops, there were vendors selling bottles of water and other snacks, but many of these bottles were unfiltered water from sources we were skeptical of, and we hadn't thought to bring our LifeStraws with us, so we avoided imbibing any despite the cries from our desiccated tongues. At a few stops, I tried to run off the train to quickly scout for bottled water, then rush back onto the train to avoid being left behind, but each attempt was met with failure. However, after my third try, I came back to find Magda sitting with three full, sealed, glisteningly cold bottles of water. A gentleman sitting across from us figured out what we were trying to do, and when he got off at his stop, he returned a few moments later with fresh bottles of water for us! Without a word, he handed Magda the bottles through the window as the train pulled away. We shared no common language except to smile and hold our hearts at his generosity. Honestly, the people of Myanmar truly are golden. The generosity we were shown during our time in Yangon will stay with us forever as a lesson in how to behave as a host of your country and culture. Live life; love life.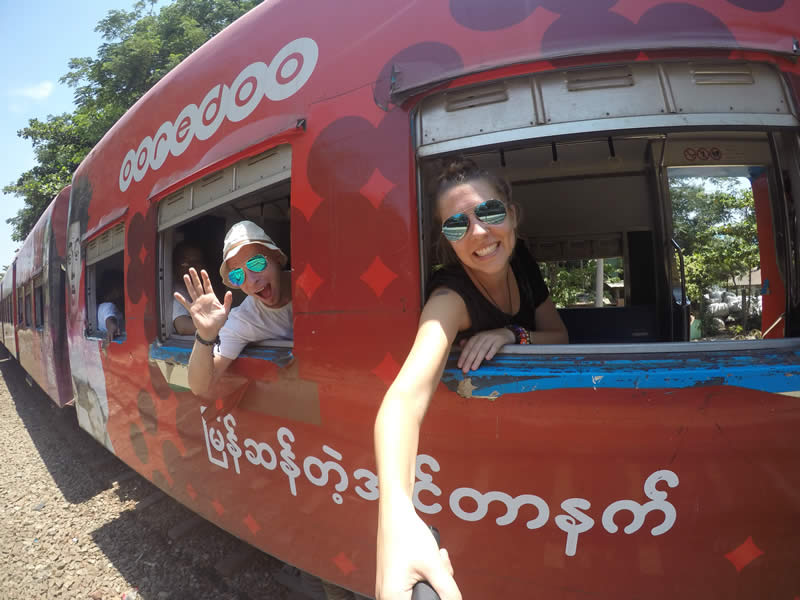 Teaching English abroad often allows you to travel to additional countries beyond your teaching destination. Many teaching destinations in Asia make it possible to travel to several equally exciting neighboring countries on weekends and holidays.
Want to learn more about Where you can teach English abroad, and how to travel across the globe while you do it? Visit an information session near you or download our free course guide!
Written By Magda and Brent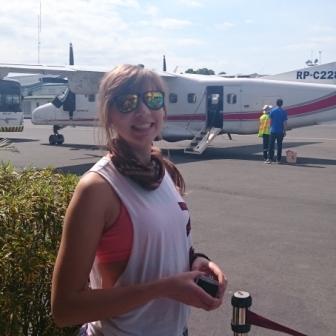 Magda is an Oxford Seminars graduate with an honors degree in biological sciences. She loves traveling and has been to nearly twenty countries, with plans to see them all! She spent a year and a half teaching English and Science in Incheon, South Korea, and is looking forward to many more opportunities to teach and travel abroad on the horizon.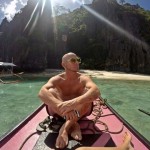 Brent has been involved in ESL as a teacher, Oxford Seminars TESOL/TESL/TEFL instructor, and writer for much of the past decade. His teaching exploits have taken him to South Korea, the Czech Republic, and most recently to Taiwan. As both a teacher and avid traveler, he looks forward to every opportunity to explore new cultures, sample new cuisines, and meet new people. There's no better way to see the world!