When I began my journey of teaching English abroad, I had high hopes. I wanted to see the world and experience adventure, but I also wanted to make an impact in the classroom. Fortunately, I did get to achieve most of my goals and experience the rewards of interacting with my students. There are so many student stories to share, but none quite like the story of Ichio Numano, who currently ranks as my all-time favorite student for his ability to teach me!
I met Ichio in the Machida area of Tokyo during my first year of teaching overseas. He was my private lesson student who had been coming to the same conversation school for years after he retired as an eduction professor at a nearby university on the Odakyu Line.
At first sight, you could have mistaken him as an upscale hippie. He showed up in Birkenstocks, a Che Guevara t-shirt and a pack of Dunhill cigarettes that he chain smoked. My manager told me that he was a very serious student who liked to talk about beer, eating pork and smoking cigarettes. But, not necessarily in that order.
Our first lesson was a getting-to-know-you/banter session that lasted until he asked me if we would be learning about beer, eating pork and smoking cigarettes. I began to answer his question when he interrupted me with another question. This time, he asked about the " pen" that was in my hand. In fact, it was a black whiteboard marker. Surprised to hear the word "marker," he signaled to me to give it up. I surrendered the marker and watched him shuffle over to the board. He scribbled out several symbols that made no sense to me since they were all in Japanese! After this, he turned to me and announced that he would be teaching me about beer, eating pork and smoking cigarettes in English!
This was the start of a two year working relationship where the professor would give me weekly lectures on topics that went far beyond beer, eating pork and smoking cigarettes. In fact, it was my baptism to Japan, and a great way to start a ten year teaching career in Tokyo that ended in 2007 when I moved back to the U.S.
I will never forget all the great times that I had with Ichio inside and outside of the classroom. You can probably guess that we drank a lot of beer and ate a lot of pork together. I let Ichio take care of smoking the cigarettes.
In summary, you never know what may happen. I went into the classroom that day expecting to teach my routine. Little did I know that I would walk away with the most knowledge! This experience with Ichio helped me immensely as I continued to teach and become acclimated to Japanese culture.
If you're preparing to begin a TESOL adventure, expect the unexpected and don't be afraid to give up that marker! Go in with an open mind, because, I promise, you won't regret it!
Author: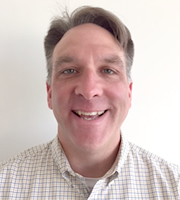 Steven Jansen (U.S. Instructor) has extensive experience at the university and corporate training level in Tokyo. As a former high school teacher in the U.S., Steve decided to relocate to the Chicago area where he now work as an ESL Instructor Specialist on the campus of Dominican University. His three years as an Oxford Seminars course instructor have been very rewarding.