Where in the World Are Magda and Brent?: Our Arrival in Vietnam
Our Arrival in Vietnam went by in a blur. We took in the chaotic sights and sounds of the country's second largest city, Hanoi, a city beset with swarms of scooters, blaring trucks, and vendors hawking all wares imaginable. In the midst of the swirling chaos, we managed to explore our surroundings and track down a couple of suitable motorcycles for our journey throughout the north of Vietnam, up to the mountains of Sa Pa and then to the UNESCO World Heritage site of Ha Long Bay. Depending how that journey goes, we will either keep the bikes and continue to travel south with stops at Phong Nha caves, the cities of Hue and Hoi An, and the beach community of Mui Ne before terminating our bike ride in Ho Chi Minh City, selling the bikes, and boarding a bus for Kampot, Cambodia to begin the second leg of our journey.
How to Buy a Motorcycle in Vietnam
Although many travel blogs and resources recommended searching through Craigslist to find used motorcycles, we didn't find anything quite to our liking, so we opted to check out a bike dealer who offered not only a package deal including luggage rack, bungee cords, and helmets, but who also had a sister dealership in Ho Chi Minh City who would buy the bikes back when we were done should we want. It seemed like a perfect setup, so we forked over some dong (Vietnamese currency) and became proud owners of two well-ridden Honda Wave semi-automatic motorcycles. They weren't flashy, but we quickly grew fond of Marvin (after Marvin the Martian for both how I look with my helmet on and the bike's maroon/red colour) and Bass (after Sebastian, the reggae-loving lobster from Disney's The Little Mermaid).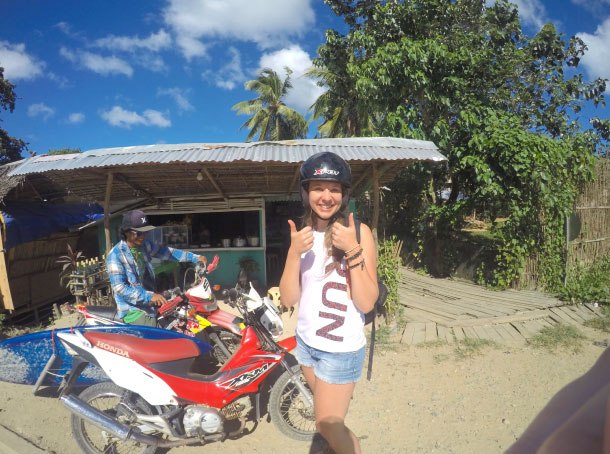 After a brief lesson consisting of some very broken English and pantomime to indicate which levers and pedals do what, we were ready for the road. I have some riding experience from riding a few dirtbikes as a kid and having previously rented scooters and bikes on El Nido in the Philippines (which I promptly wiped out on a gravel road) and Phu Quoc last spring. Magda had never ridden a bike before, so her baptism by fire began in earnest as we had to cross over a major highway during Hanoi rush hour. To say it was a harrowing experience is an understatement to say the least. The first rule you learn about riding or driving in Vietnam is that there are no rules. Use your horn early and often to let people know you're there, and make way for larger vehicles. That's about all there is to it. If you're going to go, go. If you're going to stop, stop. Don't hesitate, don't pontificate, and by all means necessary, don't ignore those blasting truck and bus horns. Get. Out. Of. The. Way. Or become a pancake.
Our next step was to download a decent, up-to-date offline GPS app. I wasn't sure how good our data connection would be in the mountains, so something to tell us where we are and guide us to our destination even when off the grid seemed like a wise investment. Our arrival in Vietnam went off without a hitch, so with our GPS, rain ponchos, water filtration bottles, and our gear tightly packed and racked on the bikes, we headed out on the 215 mile trek up into the north Vietnam highlands toward Sa Pa. Those rain ponchos became very handy as the temperature dropped and the forecast went from hazy to gloomy. Just what we wanted to see when heading out on our first ever cross-country motorcycle journey….but more on that in a later post!
Sign up below to receive email updates whenever Magda and Brent post new content as they a travel and teach abroad, or follow Oxford Seminars on Facebook, Twitter, Google +, Youtube, or Pinterest to see updates as they travel through Vietnam, Thailand, Laos, and more in their journey across a dozen different countries in between ESL teaching contracts in Taiwan and the Czech Republic.
Written By Magda and Brent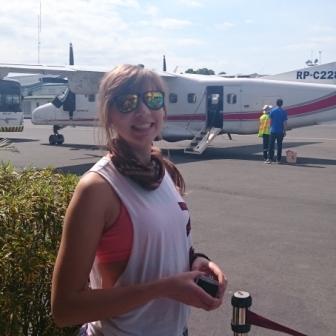 Magda is an Oxford Seminars graduate with an honors degree in biological sciences. She loves traveling and has been to nearly twenty countries, with plans to see them all! She spent a year and a half teaching English and Science in Incheon, South Korea, and is looking forward to many more opportunities to teach and travel abroad on the horizon.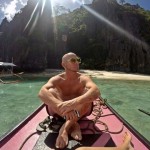 Brent has been involved in ESL as a teacher, Oxford Seminars TESOL/TESL/TEFL instructor, and writer for much of the past decade. His teaching exploits have taken him to South Korea, the Czech Republic, and most recently to Taiwan. As both a teacher and avid traveler, he looks forward to every opportunity to explore new cultures, sample new cuisines, and meet new people. There's no better way to see the world!