Many prospective teachers ask whether they need to know the language spoken in the country they hope to teach in. "Do I have to speak fluent Korean to teach in South Korea, or fluent Japanese to teach in Japan?" The short answer is no, you do not have to speak the language, but the more of the language you do know, the easier the transition to your new country can be.
Here are 3 tips on the most important phrases and topics of conversation you should know, regardless of what language you are speaking or what country you are teaching ESL in.
1. Learning Basic Phrases Before Teaching Abroad
You should spend some time memorizing some useful and basic phrases in the native language of the country. Learning how to say "hello" and "goodbye" is the best place to start. These will endear you to the people at the market, taxi and bus drivers, and the staff at the schools where you will be teaching.
In addition to the basic greetings, you also should learn: "Excuse me", "I am sorry", and "Thank you". Understand that these are just the basics, and the effort you devote to really learning the language will vary from person to person, but I will say, the more you learn, the richer your experience living abroad will be.
If you're living in a city, you will find that many people will know some basic English, but using their language shows them that you're interested in their language and their culture. There is an honesty and the most genuine earnestness that comes across when someone is speaking a second language, and it's something that brings people closer together. You don't have to be fluent to reach this point.
2. Getting Directions While Living and Teaching Abroad
Once you've learned the basics, I suggest getting a phrasebook for the native language of your country. A great next step is learning how to ask for directions: "turn left, turn right, go straight," and so forth. These will come in handy for both giving directions to a taxi driver, or asking for directions to a store, restaurant, or tourist sight. Once you get the basic phrases down, learn how to count. This will be useful in multitude of situations:
Buying groceries
Negotiating rent
Finding streets
Paying bus and taxi fares
Giving your address, etc.
Another important aspect of the expat life is transportation.  I highly advise you to study a map of the city or town where you plan on living and teaching abroad. Obviously, you will find your hotel or apartment straight from the airport, or perhaps even your new school.
From there, go online and map out the places you would like to see. It's really important to locate the supermarkets, expat restaurants and pubs, night markets, English language bookstores, parks, tourist spots, or gyms.
After thorough research on the internet and locating these places on a map relative to your apartment or your school, now you must determine how to get there. Can you walk?  I found I learned a lot about a city simply by walking. However, the city might be far too large to walk across. Does your city have a subway? Subway maps in my experience are fairly easy to follow and will often have signs written in English to help.
Bus schedules, on the other hand, can be quite tricky and may require more intense study, but don't get discouraged. If they appear too daunting, ask fellow teachers at your school, and they will be sure to help you. Keep in mind, the best way to really learn a city is to get lost at least a few times, then find your way home. It is all part of the adventure of teaching English abroad.
3. Finding Food While Teaching English Abroad
Finally, you need to learn some of the basics of food vocabulary – tastes, flavors, meats, vegetables, spiciness, etc. This will help you order food in a restaurant or find what you are looking for in a grocery store.
I loathe onions, I can't eat them, it always ends badly for me. I have learned to say "no onions" in every language of every country I have visited. If you have any food preferences or food allergies, it's essential to be able to communicate that in their language. If you're shy about trying out these phrases, you shouldn't worry. In my experience, people are very patient and gracious as you fumble through their language, and it's almost always greeted with a smile, a universal connection that will make you feel like you're at home.
When visiting a new country, there is nothing more fun than trying new food. Food is culture, and it's one of the primary reasons why we travel. You'll try food you never knew existed, or it might be something you have tried at home, but it far more delicious than the version you're familiar with.
When you move to a new country, and you're uncertain if a certain food will agree with you, or if you just feel like a taste of home, you should be aware of the places that serve American food as a backup plan. Depending on where you land, most cities will have something close to the food from the US, Canada, Europe, or Australia.
You should search for international grocery stores and understand that the food may not be the same as home, but close enough to give you some comfort, and give your stomach something that it's used to. Depending where you choose to live and teach, there will likely be stores, or at least sections of stores, that cater to the expat population, not to mention the ubiquity of American fast food franchises.
Want to learn more about where you can teach overseas? Sign up for a free information session near you, or download our free course guide.
Written By Kevin McLaren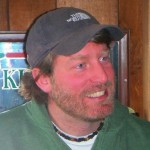 Kevin McLaren taught English overseas for 2 years in Thailand, Vietnam, and Taiwan.   He has been teaching ESL for 10 years.  Kevin has a Master's in Education. He currently teaches English at Tacoma Community College in Tacoma, Washington.