When people think of Cambodia, their minds usually gravitate to one of two things: the hellacious history of the Killing Fields or the spiritual splendor of Angkor Wat. After experiencing the gut wrenching stories of Cambodia's dark time during Pol Pot's reign, we continued our adventure teaching English and traveling abroad and ventured into Siem Reap, Cambodia's most heavily toured province and home to the ancient temple ruins at Angkor.
Exploring history As we teach ESL in Cambodia
Angkor Wat is one of the wonders of the ancient world. Built nearly a thousand years ago, the sprawling temple complex was completely swallowed by the jungle until a few decades ago. Since then, it has been the focus of an intensive reclamation and restoration project. It is one of the most amazing places I've ever been. There's just something so calm and beautiful about walking around the ruins, seeing intricately carved walls, pillars, and columns interwoven with tree roots and overlaid with moss. It's the blend of nature and creation that most inspires me about Angkor Wat. It's a sight everyone should see at some point in their lives.
We woke up an hour before dawn to reach the temple for sunrise. This is the one part of the experience that you feel almost compelled to do, but unlike the peaceful desolate calm of sunrise over the temples of Bagan in Myanmar, Angkor Wat is a true tourist destination, and dawn is its most busy time. As we set up camp to watch the sun crest the horizon behind the largest temple, around us were thousands of others here to experience the same sight. Vendors weaved throughout the crowd, offering paintings, textiles, tapestries, and even coffee and breakfast. It was still amazing to be here so early in the stillness of the pre-dawn air, but the throngs of people definitely distracted from what could otherwise be a profoundly spiritual experience. Instead, it was merely a really cool experience, which is still pretty good in the grand scheme of things. I'll take cool over mundane any day.
Unfortunately for our early rise, we were not blessed with ideal conditions for the sunrise. The skies shifted from black to charcoal to gray with the barest hint of orange-pink diffusing through the overcast clouds. I guess that's the risk you take getting up at 4 AM for sunrise: you may not actually see the sun rise. By 9 AM, however, the sky was clear and it turned out to be one of the clearest, most luxuriously blue-sky days of our entire trip.
Unlike many such ancient tourist locations throughout the world, you are given a great deal of autonomy at Angkor Wat. Again, not as much as in relatively unknown Bagan, but still more than, say, the Coliseum in Rome. We took our time exploring each complex, and I directed us to a secluded temple I was tipped off to last year when I came to Angkor Wat for the first time. This small temple sits about a mile from the main temple, and both times I've been there, there wasn't a soul around. It is truly a peaceful, reflective spot. The temple sits beside a man-made lake, and it's a wonderful spot to sit back and take in the atmosphere.
Add Angkor Wat to your travel list. You won't regret it. The town of Siem Reap is also a lot of fun, and sits in a stark contrast to the ancient temples. Siem Reap is a bouncing, fun, happening spot with a ton of bars, restaurants, and some really great hostels. You can come to kick back and enjoy yourself, and then get up early to go find your more meditative side as you explore the temples. It's all definitely well worth the trip, and something we don't know we ever would have done had we not decided to go live and teach ESL abroad. Live life; love life.
Written By Magda and Brent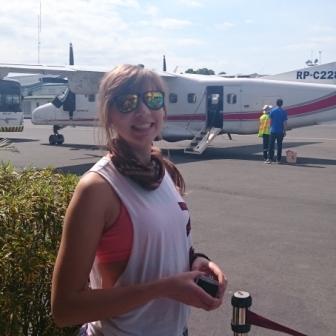 Magda is an Oxford Seminars graduate with an honors degree in biological sciences. She loves traveling and has been to nearly twenty countries, with plans to see them all! She spent a year and a half teaching English and Science in Incheon, South Korea, and is looking forward to many more opportunities to teach ESL and travel abroad on the horizon.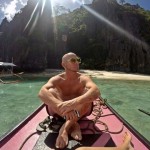 Brent has been involved in ESL as a teacher, Oxford Seminars TESOL/TESL/TEFL instructor, and writer for much of the past decade. His teaching exploits have taken him to South Korea, the Czech Republic, and most recently to Taiwan. As both a teacher and avid traveler, he looks forward to every opportunity to explore new cultures, sample new cuisines, and meet new people. There's no better way to see the world!
Read more of Magda and Brent's adventures!
Visit an information session near you or download our free course guide to learn how you can travel the world and teach ESL abroad!