Originally we were planning to hit Cambodia in the middle of our trip. We figured a few weeks relaxing on some of the best beaches in Southeast Asia would refresh and rejuvenate us for the second half of our adventure. As happens when you fly by the seat of your pants in Southeast Asia, plans changed (again). We decided to push the beaches to the end of the trip so that we'd have more time to spend in Laos, Myanmar, or anywhere else that caught our fancy. As much as we both love beach time, having the ability to sacrifice a few seaside days to experience something truly remarkable or out of the ordinary seems like a wise bit of scheduling.
We've been exquisitely good this trip. We've kept our focus on seizing the day and looking forward to each morning to begin our explorations. Sure we've had our share of late nights and good times, but we intentionally put Sihanoukville, the party town (in)famous for having the best beaches in Cambodia off until last so we could end our time in Southeast Asia on a free-for-all to unwind and relax and now, here we are….
Partying on the beaches of Sihanoukville and Koh Rong
Sihanoukville is famed for its beaches and boardwalk full of markets, bars, beach clubs, and all manner of barbecued food. It is like what Thailand was ten or fifteen years ago: A beach haven just beginning to be discovered and developed. The prices are amazingly cheap, and the beaches extend for miles, pristine shining ribbons of golden-white sand set against the aqua blue of the Gulf of Thailand. Cambodia is a beach lover's paradise. If you find yourself teaching English in Asia, we definitely recommend taking the time to travel to Cambodia.
Off the coast of Sihanoukville there are a number of islands well worth visiting. The two we settled on were Koh Rong, the well-known party island famed for its beach bars, and Koh Rong Samloem, the far more subdued, peaceful paradise island.
Koh Rong was a riot. Our accommodations included spiders and rats, so that left something to be desired, but aside from those uninvited visitors, the island is loads of fun. Beer pong on the beach, some fantastic restaurants, and a very fun island tour made up our time. On the tour, we had the opportunity to visit a local village and buy some fresh-pressed coconut oil as well as some locally brewed whiskey. We also got to swim with bioluminescent plankton, which was an absolute highlight. I had the opportunity to do this one weekend in South Korea when the currents created a rare opportunity, but Magda had never swam with them. As we were planning the trip, a chance to swim with these clouds of tiny illuminated creatures became a must-do for when we got to Cambodia, and here we were! Unfortunately, cameras are terrible at picking them up, but we assure you the scene was magical.
Relaxing on Koh Rong Samloem
After Koh Rong, we took a boat across to Koh Rong Samloem and ended up on the wrong side of the island. As this trip has shown time and time again, there is often a silver lining when plans go awry. Faced with a sweltering three-hour trek through the jungle to reach the other side, we asked around to see if anyone had a boat. Lo and behold, we met a man who could not only hook us up with a ride, but he knew of a great reef to do some snorkeling! It was fantastic. We saw so much and got to spend as much time as we wanted swimming around and exploring the reef. We were hoping to get some SCUBA in, but this was a more than adequate substitution. And all for barely ten dollars each.
Koh Rong Samloem is as peaceful as they come. The island's power goes off for periods throughout the day, and officially shuts off at 10pm. After that, you're left with the silence of the sea and the endless field of stars above as you lay on the beach. There are few experiences more serene than this. A beautiful time of relaxation.
We're writing this on the beach watching the sun set as we devour an amazing four-cheese pizza and sip on happy hour cocktails. Yeah, we can think of worse places to be than Cambodia. Live life; love life.
Written By Magda and Brent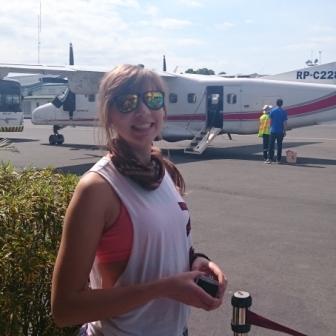 Magda is an Oxford Seminars graduate with an honors degree in biological sciences. She loves traveling and has been to nearly twenty countries, with plans to see them all! She spent a year and a half teaching English and Science in Incheon, South Korea, and is looking forward to many more opportunities to teach ESL and travel abroad on the horizon.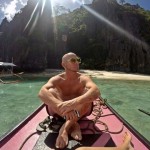 Brent has been involved in ESL as a teacher, Oxford Seminars TESOL/TESL/TEFL instructor, and writer for much of the past decade. His teaching exploits have taken him to South Korea, the Czech Republic, and most recently to Taiwan. As both a teacher and avid traveler, he looks forward to every opportunity to explore new cultures, sample new cuisines, and meet new people. There's no better way to see the world!
Read more of Magda and Brent's adventures!
Visit an information session near you or download our free course guide to learn how you can travel the world and teach ESL abroad!