Doesn't it feel like we're finally on the path back to pre-pandemic normalcy? We're a little less hesitant to stand near people we don't know, we're making travel plans, and we're watching health stats less. But what if we're not quite ready to immerse ourselves in a new country, culture, and way of life, diving head first into new experiences? What if we could have the benefits and experiences of teaching English as a second language, but with none of the upheaval? Maybe even from the comfort of our own homes?
In 2019, I had a friend tell me about a job she had started, teaching English remotely, to children in China. In classic Zoom style, she could teach, wearing pajama bottoms, with the appearance of business dress on top, while her family slept. It sounded amazing, and while the idea of waking up much earlier to do this was a bit unappealing, having a new resource for additional income that didn't interfere with my current employment was appealing.
It wasn't until the beginning of March 2020 that I decided to take the plunge and apply to QKids, and it couldn't have ended up being a more perfect time to do so! In the week that followed, as I'm sure you'll all vividly remember, the world started to shut down and more of us were at home indefinitely.
Two and a half years later, at 5:30 in the morning, Mondays to Fridays, you can still find me sitting in my home office, computer screen is on, headphones plugged in, vocal cords warmed up and ready to go!
I've been working remotely, teaching ESL to students primarily in China, within the ages of 3-16. There are occasionally students from other countries, such as the Netherlands, Japan, even Australia, but they are usually also of Chinese descent. Teachers from QKids are from all over North America, and children are exposed to all of our varying dialects and nuances. This proves to be very beneficial, as often when listening to only one type of speech, students can become complacent.
Something to be aware of when teaching children in countries like China, is that there is an examination called the National College English Test that students will take at the end of high school, in order to determine the number of words in English the student has learned. This test score opens doors for employment and dictates which post-secondary institutions they may attend.  With this comes an intense pressure to do well in English, a concept hitherto foreign to most Chinese students. While that may make some more motivated to do well, others find the abundance of extra work too difficult.
Teaching children remotely can be challenging for sure, but it can be greatly rewarding! I myself have three children, and I can say that getting through the pandemic and through online school was an eye-opener where remote learning was concerned! As opposed to an in-class setting, where you have more opportunities for transitions and to check in with individual students; online platforms are faster paced, and activities need to be immediately engaging. That being said, seeing those children shout out answers in excitement, or laughing at a graphic or song, is so infectious, that you can't help but smile yourself!
I don't always see my students more than once, given the population size of China and the popularity of my platform. That can sometimes be both a blessing and an annoyance! It is nice to know that no matter what is happening inside my classroom, it is only a 30-minute block of time, and I then have a chance to reset and connect with a whole new class. On the other hand, it makes it more difficult to form relationships. Seeing someone I've already met actually garners excitement from both us as that recognition sets in, and I love those moments!
The community of teachers that I work alongside is so enthusiastic about what they do. This pandemic era has been difficult for all of us in some way or another, but having that connection to a world outside your own through it, has been amazing. I can honestly say that I feel as though it has given me a source of sanity, and as a mom of three young children, I appreciate all the help I can get.
So if you're not quite ready to fully put yourself out there, maybe dipping your toes into a remote opportunity is for you!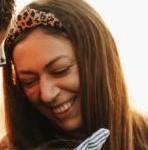 Ashley Chambers taught English in Nagoya, Japan for a yearlong contract in 2007 with Nova, after receiving her Bachelor's Degree in Religious Studies at the University of Waterloo. After moving to England, Ashley worked as a Teaching Assistant within a boarding house to international students in Lincolnshire. She is now working remotely for QKids, in China, as of March 2020, and also leads the Customer Service Team at Oxford Seminars. Ashley has taught all ages in her ESL career, but enjoys her time with young learners best.