At the end of any Oxford Seminars Certification Course, there is a certain measure of excitement as students are being handed their certificates of completion. Applause rings out, camera phones are flashing and hugs and contact information are being exchanged. The air is full of celebration as students feel a mixture of accomplishment and relief.
In the midst of of this excitement, a chorus of questions also tends to fill the air. Students wonder what the next steps will be. They wonder where they should search for a job and what country they might end up relocating to. "What's it like to teach English abroad?" is the one question that is always asked.
I've had over 12 years of English as a Second Language (ESL) teaching experience in Japan, Turkey and the United Arab Emirates, and worked with thousands of students from every age group, English speaking level, socio-educational background and personality type.  When students ask me what it's like to be in the classroom overseas, I always refer back to the six days of Oxford Seminars' Course classes and respond, "It's like your course!"
I repeatedly find many similarities in terms of the Oxford Seminars' Courses I teach and the ESL classes I taught during those years overseas. The diversity of ages, educational backgrounds, existing experience and the diverse personalities are consistently present in both environments.  The only real difference is the topic they are learning – how to teach conversational English rather than how to speak English.
Once the students begin to reflect on our work together in the course, it often becomes much easier for them to imagine what their future classes might look like. After all, they've already experienced it as a student. They know that discussions and activities are colored by personal experiences, that students sometimes struggle with their commitment level to class or managing their coursework, and that sometimes, it can be a challenge to understand the guidelines for their practicum. Remembering the challenges they faced with their classmates is often an excellent way for them to anticipate the challenges they may face as a teacher.
When the practicums conclude at the end of the course, students are given an opportunity to provide feedback to their peers. During this process, I remind them to think about their task as being similar to when an ESL teacher provides advice to their students. Through their honest and varied suggestions, they collectively have the chance to discover what a great ESL lesson might look like, which paves the way for success in their own classes down the road.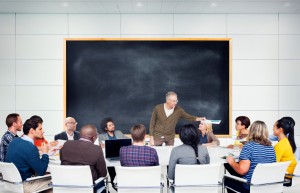 While I understand the motives for taking this course can vary greatly from student to student, it doesn't take away from the idea that students and classroom dynamic. Whether these future teachers are motivated by a desire to travel the world, gain new perspectives, earn money in exotic locations or simply the notion to take a break from their everyday life in the United States, the classroom experience all boils down to one thing – a diverse collection of people working toward a collective goal.
By recognizing this, I hope my approach to teaching makes me more effective as I work through the challenges students give me every time I step into a new class. I also hope that, as those camera phones start to flash amidst the celebration of graduating, I can feel confident enough to say my students really are prepared to answer the question of "What will it be like?" with a measure of confidence.