My teaching experience abroad in Mexico was phenomenally enriching! It has broadened my view on life, shaped my social perspectives and offered me new and innovative ways of perceiving the world that we live in.
(This post is part of an ongoing series of guest blogs sent by individuals who have experienced life abroad as a TESOL/TEFL educator. We would love to share your story. Interested? Email us at my_story@oxfordseminars.com!)
Mexicans are remarkable people. They are very down to earth, humble, caring, welcoming and, most importantly, loving. They made my stay worthwhile, and I'm hungry to go back for new adventures. If you love people and socializing,  this is where you want to be! Dancing, from Salsa to Cumbia, will definitely get your hips moving. Their Latino flavour, whether present in their dancing, mingling, singing or food, will certainly keep you on your toes and wanting more.
If you're big on learning about history, religions and cultures, then Mexico is perfect for you. This magical ancient land is filled with amazing opportunities to see natural attractions and historical artifacts such as El Tule Tree, the widest tree in the world thought to be almost 1,500 years old, Teotihuacan, a city that was built at least a thousand years before the Aztecs came and whose origin is unknown, and Monte Albán, an ancient city that flourished for 1, 500 years starting in 500 B.C. and was home to several peoples over that time span. These are just three of many, many sights to visit. Teaching English abroad gives you the chance to not only change someone else's life, but to change yours as well. I went from being just an internet observer to actually being there, experiencing it with all my senses.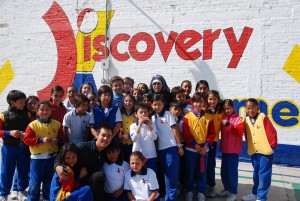 Teaching English abroad in Mexico as a second language takes on a whole new level of adventure. It definitely challenges the way you think and speak on the language you've taken for granted your whole life. It's all worth it, though, when you see your kids smiling, laughing and sharing their personal stories in class. Creating this ambience was one of my favourite forms of connecting and reaching out to my students. It allowed me to teach them, but at the same time to learn from them. Whenever I get the chance to talk about my kids in Mexico, I'm reminded of their energy and excitement, and it brings a smile to my soul.
I truly couldn't have wished for a more wonderful opportunity. My love for Mexico goes beyond comparisons and metaphors and has integrated itself as part of my personal growth. I look back at the point in my life when I was thinking about picking up and just heading out that door into the wild, ready to take on the world. If you're at that point and you haven't done so, what are you waiting for? As the author Robert Brault says, "Seize every opportunity along the way, for how sad it would be if the road you chose became the road not taken."
And in my case, it was taken!
By Suzanne Kanso
If you are interested in teaching English abroad and learning more about how to take on an adventurous career while also boosting your savings, Oxford Seminars is here to help you make the most of your ESL career. For more information on becoming TESOL certified, request our free information packet.