Preparing to live and teach abroad is both exciting and daunting. There are so many factors to consider, so much preparation to be done, and so many unknowns facing us on the horizon. Will I enjoy it? Will I adapt well? What if I don't like the food, or if I get homesick or feel lost? What if my students are bad? What if they don't learn or won't listen? How will I find a job? What if I forget something important??! Prior to becoming an Oxford Seminars instructor, I experienced these very same anxieties when I was preparing to teach overseas. Make no mistake, packing up and moving abroad is a huge endeavor! But, isn't the adventure why you're here? It's this sense of tackling the unknown, testing ourselves and our limits, and seeing what's out there in the broader world that drives us out of our comfort zones and into the world to explore and embark on journeys that will indelibly shape our lives from this point forward. It's the adventure that drives us, and the preparation we put in beforehand enables us to tackle the challenges ahead and make the most of the experience. A large part of that preparation is your Oxford Seminars course.
As an instructor, one of the biggest worries I hear is, "I've never taught before…what if I can't do it?" To which I reply, "Take a deep breath and relax. You can do it." It's scary teaching for the first time, but we give you the tools you need to succeed. I remember the first time I stood in front of a class of 8th graders during my teaching certification. I had all these eyes staring at me expectantly, waiting for me to do something. That feeling of expectation is daunting, the sense that the success of the hour, day, month, year, my whole career as a teacher depends on my ability to stand here and say meaningful things to these expectant faces! And then after a silent inner gahh, you realize that you spent time preparing a lesson, you considered your lesson objective and mapped out your lesson plan step-by-step, so trust your groundwork and begin teaching.
Oxford Seminars prepares you to create engaging and dynamic lessons that will give your students the skills they need to learn English. When teaching abroad, you encounter students of a wide range of ages and ability levels. During your course, we go over approaches and methods of teaching and take the best from each to combine into a paradigm of communicative language teaching within the framework of a well-managed classroom that takes into account the diverse learners you will encounter. This preparation and forethought is invaluable when you finally arrive at your destination and are about to make that all-important first foray into ESL classroom teaching.
As a part of your course, you'll get access to the Job Placement Service (JPS). JPS and your course instructor have tools and tips for resume building, job searching, and interview skills to help you land the right ESL job for your goals. The enormous directory of schools amassed by JPS is a tremendously valuable resource. When I was first preparing to move abroad to teach, I had to look online and search each country and city individually, hoping to find a school or list of schools that matched the location where I hoped to teach. What I would have given for the tools and resources available to you now!
Beyond classroom teaching and the job search itself, there is the important step of actually moving abroad. If you're like me, you'll have a moment where you sit on the edge of your bed and wonder, "What the heck am I doing? I've found a job, I've started packing my bags, am I seriously about to move to another country for a year or more?" In the course, we go over the process of preparing not just to teach in the classroom, but also to live abroad. There are challenges from language to lifestyle, climate to culture shock. I share my experiences, both my hardships and triumphs, to help my students get ready to go. We go over checklists of things to do beforehand, tips for surviving those early days, as well as all the phases of culture shock and how to overcome them. It's one of the most rewarding things for me as an instructor to be able to pass on what I've learned and the experiences I've had (and continue to have as I'm back on the teach-and-travel road as I write this) in order to help my students to have their best possible experiences on their own adventures. It's like with every class I get to relive a little of what I felt when I first went abroad.
What has amazed me along my travels as I meet other teachers from various countries is just how similar our stories are at heart. We all go through many of the same anxieties, concerns, fears, challenges, moments of elation, surprise, shock, joy, bewilderment, and that prevailing sense of "what have I gotten myself into?" along with its spiritual travel counterbalance, "I wouldn't trade this for the world."
This planet and all its cultures are a wonder to explore, and with the right preparation beforehand, you can truly make the most of your experience. Get out and travel my fellow teachers and adventurers! Live life. Love life.
Written by Brent Morrison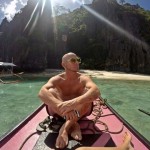 Brent has been involved in ESL as a teacher, Oxford Seminars TESOL instructor, and writer for much of the past decade. His teaching exploits have taken him to South Korea and most recently to the Czech Republic. As both a teacher and avid traveler, he looks forward to every opportunity to explore new cultures, sample new cuisines, and meet new people. He can't imagine a better way to experience the world!