When my friends and family ask me what I miss most about South Korea, I say the food without having to think twice. I mean sure, I miss the Korean friends I left there, and I miss my students. But let's be honest, I miss the food. Korean food is absolutely fantastic and the Korean restaurants in North America just aren't the same. I would give anything for some Mapo Galbi tonight.
That doesn't mean that during my years teaching English in Seoul I never craved North American food. That doesn't mean that after a particularly long workweek I never went to the Pizza Hut that was literally next door and ate an entire pizza by myself. Because holy heck yes, I did that. I did that more than I care to admit.
How to Order Pizza in South Korea
Pizza, like other North American food, can be tricky in South Korea. For whatever reason, the Korean brand restaurants insist on making the pizza sweet. Not just faintly sweet, I am talking sugar under the cheese sweet. The safest thing to do – unless the sound of sugar pizza is appealing to you- is to go to the American chains for your fix, the most common ones being Pizza Hut and Dominoes.
Sometimes it was great. I'd stop in at one or the other and order my pizza, only to be given TWO pizzas for the price of one. The peppy pizza boys would say, "Service!" when I expostulated that I only ordered one, and I would head home under the weight of two large pizzas, sternly telling myself that I was not allowed to eat them both that night.
Alas, all good things must come to an end.
Can Pizza Hut Really Run Out of Pizza?
One dark and stormy night, a friend came from Busan to stay the weekend, and we decided on pizza for dinner. We both wanted to hole up in my apartment and watch Korean dramas all day, and did I mention that Pizza Hut was literally the building next door? We braved the wind and rain to scamper into the restaurant, both drooling over the prospect of that yummy pizza pie. In response to our order, however, the server said something completely baffling.
"Opsoyo!" said she, making an "X" with her arms.
'Opsoyo' means "there isn't any" in Korean. We both thought we had understood incorrectly.
"Pi-ja? Opsoyo?" I said, incredulous.
"Ye, opsoyo!"
There is no pizza? At Pizza Hut? Why were they even open? How does a pizza place run out of pizza?
And that wasn't the only time! After that first instance it became a very real possibility that Pizza Hut would be out of pizza. In vain did I investigate the cause of these sporadic instances of gross pizza mismanagement. Maybe if they were not giving away extra free pizzas all the time they would not run out so often? Maybe they were secretly documenting the frequency with which I visited and consumed pizza and had decided that, for my own good, I needed to be cut off. Maybe my Korean was just too imperfect to correctly understand the heartbreaking situation (although I did once get denied pizza when accompanied by a Korean friend who was just as confused by the situation as I was).
I therefore caution any of you moving to Ilsan: the Pizza Hut in front of Juyeop Station frequently runs out of pizza. Beware! But also be thankful –there are better things to eat in a foreign country than the North American style food you can easily get back in your own.
To Learn more about how you can make living as an ESL teacher in South Korea, visit a free information session, or download our course guide!
Written by Julianna Will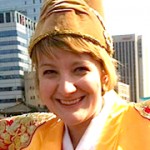 Julianna has lived, studied, and worked in countries all over the world, including France, Germany, and Greece. After completing her B.A. in Classics she ran away to teach kindergarten in South Korea for two and a half years, returning to Canada only to continue her studies in Classics. Although she still gets her teaching 'fix' as an Ancient Greek and Latin instructor, she often contemplates chucking her PhD and running back to South Korea to spend her days having fun with her kindergarteners.