Christmas is a widely celebrated holiday throughout the majority of English-speaking countries. However, some countries that do not speak English as their first language have begun to celebrate the commercial side of the holiday as well. Take China, for example. In the 8 years I worked there, it became more and more common to see people celebrating Christmas – even though Christmas is not a public holiday in the country.
Organizing Christmas Parties for Students in China
Over the past several decades, a correlating increase can be seen in both private and public language schools that offer English lessons, and certain aspects of Western culture to which children and adults are exposed. For my classes, we organized Christmas parties where the students could immerse themselves in the "Holiday Spirit." We gave the students the opportunity to decorate Christmas trees and gingerbread cookies, learn Christmas jingles, and most importantly, take a photo with Santa Claus. As more and more students attended our Christmas, many of the parents stated that they enjoyed exposing their children to holidays and traditions from Western countries.
For us Westerners, Christmas is most commonly associated with religion and family. For the Chinese, the holiday is generally considered a "Western Mystery" instead. The Spring Festival, or the Chinese New Year, is the most comparable holiday in terms of spending time with family. However, the commercial side of Christmas is starting to appear more and more. It's now commonplace in many of the larger cities to see Christmas decorations appear in late November or early December. You would be amazed by the sight of a shopping center all decorated with "Christmas Spirit."
Favorite Christmas Memories in China
One thing that many prospective ESL teachers worry about when considering traveling abroad is how to cope with being away from home during the holiday season. I lived in a city of about 2 million people with a foreign population of less than 100. However, I was amazed by how the entire community came together during the holiday season to celebrate Christmas. I enjoyed this as I was able to partake in Christmas traditions from different countries. Some of my favorite memories include:
Encountering endless Christmas trees in shopping centers that could best be described as the tree from A Charlie Brown Christmas.
Listening to the "Chinglish" version of Jingle Bells on an endless loop throughout numerous shopping centers.
Receiving countless bags of apples as Christmas gifts from my students.
Memorable Food Experiences in China
During my last few years in China, a growing number of people wanted to expose me to China's Spring Festival, which we typically referred to as "Chinese New Year." There are, of course, differences between the Spring Festival and Christmas, such as food, activities, and meaning. While Christmas is always celebrated on the 25th of December, the Spring Festival is celebrated on different dates due to the lunar calendar. For instance, in 2016, Spring Festival will begin on February 9th, and in 2017 it will start on January 29th. Both celebrations brought memorable food experiences, such as:
Having a potluck dinner at a local foreign-owned restaurant followed by a trip to a popular KTV (karaoke) club.
Having an Australian pig roast during December.
Best Chinese Christmas and New Year Traditions
Looking back over my time in China, I am glad I accepted those invitations from my new friends to experience an authentic Chinese Spring Festival and also their version of Christmas. While there, I missed both my family and friends during the holidays. However, I ended up creating new traditions with both my newly found expat and Chinese friends, which allowed me to celebrate the best of both cultures. Some of my favorite traditions include:
The opportunity to learn how to make dumplings, which is one of the staple meals during Spring Festival. I was informed that, out of the hundreds of dumplings they make for Spring Festival, they place a coin in just one of the dumplings. Whoever ends up eating the dumpling with the coin will have good financial luck for that upcoming year.
The invitation to join their family and watch the annual CCTV Spring Festival Gala, which is a collection of musical and acrobatic performances along with comedy sketches. A funny note is that, after the original airing of the program, CCTV will air the performance on a 24/7 loop for the remainder of the Spring Festival (6 days).
Would you like to broaden your horizons and have multiple cultures to celebrate? Give yourself an extra memorable Christmas gift this year – the thrill of a new adventure!
Start your adventure living and teaching English in China by attending a free information session near you, or download our free course guide!
About the Author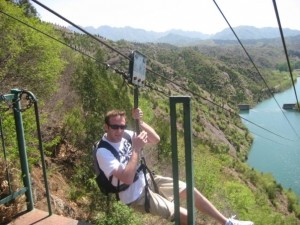 Liam Norwich graduated from Oxford Seminars and proceeded to teach in Northern China for 8 years in both private and public language schools. He graduated from Niagara College and has recently returned to Canada to further his education.