Excited for my journey to South Korea, I flew into the airport to meet with the agent who would be taking me to the train station and seeing me off to my new hometown. With English speakers found all over Seoul, this transition made it seem like a dream. However, my world changed very quickly when I arrived at the train station in Hyang, a rural town in Central South Korea. Here, my boss's English was very limited, and we were located in an even more rural South Korean town with a smaller population and less English influence. Here are 3 ways I experienced culture shock while teaching English in South Korea:
Experiences While Living in South Korea
1. Broken Communication
On our car ride, I started to realize I knew nothing about the Korean language and had to speak very slowly and rely on everyone's English abilities, putting communication at their mercy. Once arriving at my apartment, my boss (in broken English) mentioned she would see me in a couple days. This alone time for a couple of days is part of the "quarantine" process to ensure your body adapts to the new environment. At that, my boss left me with some food and a goodbye.
2. Mixed Emotions
Sitting in the apartment, it was hard to explain the mix of emotions that came through my mind: excitement, anxiety, curiosity, adventure, loneliness, and more. After exploring what I could of the small apartment, it was time to venture out and see the neighborhood. This turned out to be a very good move on my part because walking around gave me a new perspective on my new home.
3. Unfamiliar Food
For the first day, eating took place at the local convenient store where limited interaction happened. It was safe and easy with the exchange of the Korean Won fitting in with my level of comfort. After a day, I was craving something more sustainable. But, everything was written in Korean, and I was unsure what each food was. As a result, I started visiting restaurants with pictures on the signs. Once this proved successful, I began to grow and become more adventurous using my Lonely Planet guide and trying to interact with the locals.
This process was ongoing throughout my stay in South Korea, but fortunately, with practice, effort and guidance, I was able to chalk up lessons learned and move to ordering meals in the Korean language. Eventually, I was able to read the signs and become extremely fond of Korean Cuisine! It was a slow start, but successful with time.
If you're thinking of teaching English abroad in South Korea, don't be afraid! Learn from my experiences and know that the people are extremely friendly and willing to help in any way possible.
For more information on teaching and living abroad, check out our Expat's Guide to Teaching ESL in South Korea.
(This post is part of an ongoing series of guest blogs sent by individuals who have experienced life abroad as a TESOL/TEFL educator. We would love to share your story. Interested? Email us at my_story@oxfordseminars.com!)
About the Author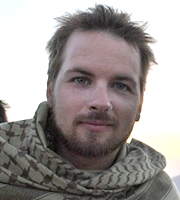 Josh Malig began his ESL teaching journey in Cameroon, Africa on a Nipissing University Teaching Placement for 1 month. Following this experience, Josh has taught ESL in Canada, South Korea and is now training others through Oxford Seminars. He has recently completed his Master's of Education through Nipissing. Currently, Josh teaches in the public school system in Brantford, ON and travels on his time off. It will only be a matter of time before he is off again for some more ESL teaching experiences!