Specialization Module: Teaching TOEFL Preparation
Complete the Teaching TOEFL Preparation Module to enhance your TESOL/TESL/TEFL Teacher Training Certificate. The TOEFL test measures how well non-native speakers can read, write, and understand English. TOEFL teachers are in high demand since the results of this test can be a determining factor in a student's future work and education.
Specialization Modules ~ Teaching Business English ~ Teaching English To Children
The TOEFL iBT test stands for "Test of English as a Foreign Language Internet-Based Testing." Previously, the test was only available in paper-based testing or computer-based testing (CBT) format, which is no longer available. Writing the TOEFL is most often a pre-requisite for international students hoping to study in North American post-secondary institutions. In addition, the score is used by government agencies, scholarship programs, and licensing agencies to assess English proficiency.
As a result, ESL learners all over the world are seeking certified teachers trained in TOEFL preparation. This comprehensive 40-hour specialization module is designed by experts in the field to provide you with a thorough background in TOEFL, as well as a number of proven strategies to help students successfully write the test.
Module Certification
Pre-requisite
Recommended Background
Enrollment
Length
Objective
Content
Evaluation
Materials
Employment Opportunities
Module Certification
An additional 40-hour TESOL/TESL/TEFL Certificate specializing in Teaching TOEFL Preparation
Pre-requisite
Completion of the Oxford Seminars TESOL/TESL/TEFL Certification Course
Recommended Background
No previous exposure to TOEFL is required to take this course
Enrollment
The Teaching TOEFL Preparation Specialization Module is affordably priced at $400 and includes all course materials, instructor feedback, the marking of all homework assignments, as well as the shipping and handling fees (within the US) associated with the mailing of all module materials and the upgraded certificate awarded upon module completion.
To enroll for a Specialization Module, call 1-800-779-1779 toll free (Los Angeles area: 310-820-2359; New York City area: 212-213-8978). To enroll by fax or mail, print the Module Enrollment form.
Save $100 off the regular price if you enroll for a Specialization Module within two weeks of completing the TESOL/TESL/TEFL Certification Course.
Length
40-hour online module to be completed within three months of enrollment
Objective
In completing the Oxford Seminars Teaching TOEFL Preparation Module, you will:
Gain a better understanding of teaching TOEFL preparation and the TOEFL iBT test itself, including administration, comparison of other various test formats, and content;
Learn general guidelines to follow when planning and preparing to teach TOEFL preparation courses;
Review the major sections of the TOEFL: listening, structure and grammar, reading, writing, and speaking;
Learn how to successfully teach and prepare students for each section of the test.
Content
Overview of the test and its administration, various test formats, and content;
Familiarization with the types of test questions and methods of scoring;
Review of language acquisition skills: listening, grammar, reading, writing, and speaking;
Focused guide and lesson samples for teaching the four principle components of the test;
Teaching exam preparation techniques (time management, test anxiety, review and recall, strategic guessing);
Teaching test passing techniques through sample questions and practice test.
Evaluation
In this module, you will complete readings, examine lessons, and complete an assignment consisting of 100 multiple-choice questions.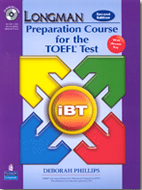 Materials
Teaching TOEFL Preparation Course Book (Oxford Seminars)
Longman Preparation Course for the TOEFL Test (Deborah Phillips

, Second Edition)
All materials are included in the module price of $400.
Employment Opportunities
Graduates who earn the specialization in TOEFL Preparation for their TESOL/TESL/TEFL Certification are in high demand among educational institutes. There is also the opportunity to teach one-on-one, since many job candidates, students, travelers, etc. require assistance in their studies. As English becomes a necessity for global communication, language proficiency testing is becoming more prominent and being qualified to assist in this process is a very marketable skill.
---
Test names and other trademarks are the property of the respective trademark holders. None of the trademark holders are affiliated with Oxford Seminars or any content of this website.
TOEFL is a registered trademark of the Educational Testing Service.
EDUCATIONAL TESTING SERVICE, ETS, and the ETS logo are registered trademarks of the Educational Testing Service.